Dr. Edit MAROS
General Practitioner with a particular interest in Endodontics
3 Rue des Genêts
FR-53410 - SAINT-PIERRE-LA-COUR
FRANCE
Clinical case commented by Pr. Jean-Marie Vulcain
Case presentation:
Tooth #46 was recently restored with a Zirconia onlay. The pre-treatment radiograph highlights the radiopaque cement layer and suggests that the cavity encroaches on the pulp space. There is a corresponding evidence of sclerosis in the pulp chamber. There are also radiographic signs of periapical pathology associated with the distal root. This tooth has been the cause for episodic pain. An Initial Endodontic Treatment is therefore indicated.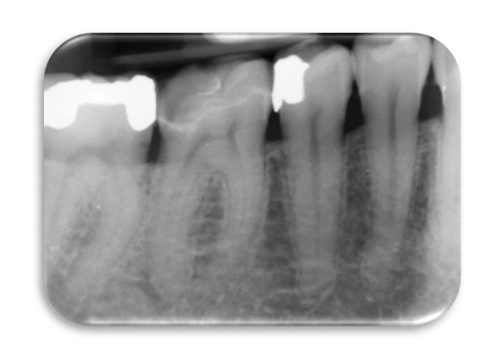 Initial Endodontic treatment
- Local anaesthesia
- Isolation with Rubber Dam
- Accessing pulp chamber through the zirconia restoration
- Detection of the canal orifices and thorough irrigation during and after every stage
- Use of a magnification
- Opening of the root canal orifices with the Neoniti C1 file, and irrigation
- Root canal patency with the Neoniti GPS no. 15/.03
- Establish the Working Length (WL) with an apex locator
- Root canal shaping with Neoniti A1 no. 20/.06, then A1 no. 25/.06, and irrigation
- Drying of the root canals
- Obturation using warm vertical condensation and thermo-compaction
- Final radiographs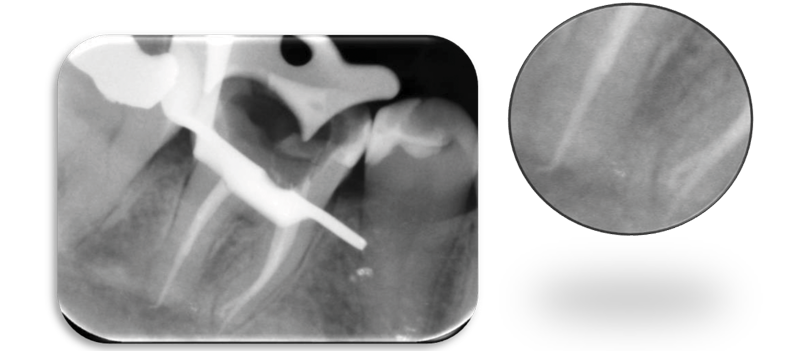 Comments
Thanks to its 12% taper and its active length of 10mm, Neoniti C1 no. 25./12 opened 3 root canals while reducing the first curvature and improving the access to the mesial and apical parts of the canals.

Neoniti GPS file eased the path of Neoniti A1 no. 20/.06 and A1 no. 25/.06 and saved time by creating an initial glide path.

Neoniti A1 no. 20/.06 and 25/.06 files finish the root canal shaping in the apical zone while preserving the canal anatomy.

The treatment was successfully completed in a single session.